Labymaïs of Brie, the giant vegetal maze made of corn will lose you… but will bring you together, young and old, for a 100% fun day!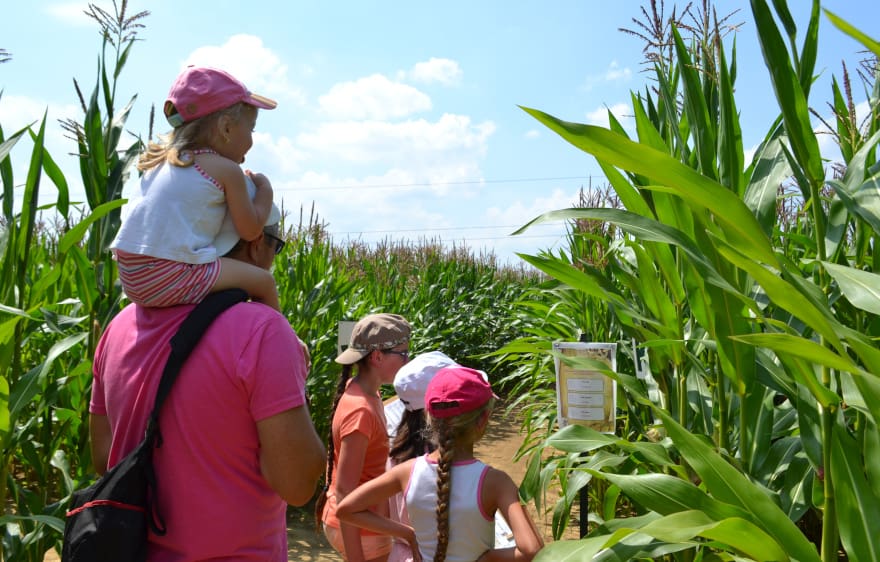 About
Tucked away amidst the fields of Seine-et-Marne, farmers Sandrine and Ambroise Deneufbourg invite you to discover the Labymaïs of Brie, a cornfield maze.
It's a life-size game you can share with your family or mates!
The idea is simple:
When you arrive, you'll have your choice of several courses filled with riddles, traps and trials. Select one appropriate for your or your children's age group. Armed with a map, you immediately set off on your adventure.
You'll need to come up with the right answers to follow the right path to the exit. Otherwise, you'll be lost! Signs along the way will let you know whether or not you're headed in the right direction.
A surprise awaits all kids at the maze exit!
When you make it out, you can decide if you'll give it another go: entry is valid for the entire day for all courses!
Each year, the owners propose a different theme, which allows you to come in costume!
2023 theme to be confirmed.
This giant maze promises an unforgettable experience while testing your sense of direction…
The Labymaïs of Brie offers a playground for the little ones, a covered picnic area, WCs, farm products, cider and apple juice.
The maze paths are pram- and wheelchair-accessible, especially in dry weather.
Our hiking friends also enjoy a day of conviviality: hiking around the fields in the morning, aperitif and picnic at lunchtime (brought by you), and the labyrinth in the afternoon… Labymaïs is also for adults!
highlights not to be missed (subject to change):
• In July and August 2023 (programme in progress): Laby'Nocturne evenings: do not miss our night-time departures, bringing torches or headlamps.
Booking by sms.
Complete programmes soon available in the "Agenda"
Schedules, Welcome conditions & Prices
Information and welcome conditions subject to change.
Schedules:
• From 8 July 31 August 2023: daily from 10 a.m. to 7 p.m.
• Laby'Nocturne : 2023 programme in progress.
• From 1 to 30 September: Saturday and Sunday from 2 p.m. to 6 p.m. – open other days by phone reservation.
Price:
7 € per pers. – free for under 3 years old.
Cash only (no credit card accepted).
Entry is valid all-day for one or more courses.
Contacts