Live the adventure of Ferra Botanica, an electric-assisted railbike in a protected green space!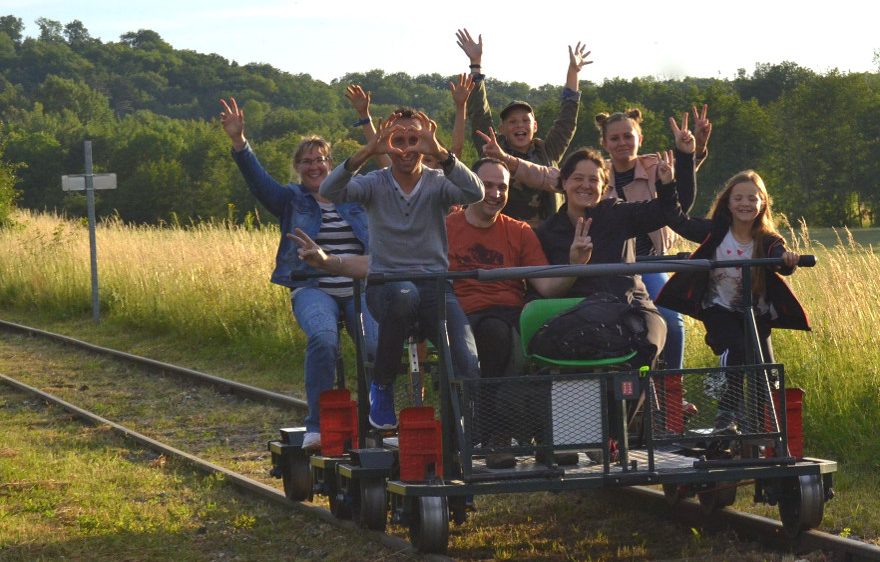 About
Ferra Botanica is a match made in Heaven. Bike + Train, Humans + Nature. Add them up and you get an unforgettable experience!
Hire bikerails in the commune of La Ferté-Gaucher for a jaunt with your family through the Land of Brie!
Pedal at your own pace with a little help from an electric motor. Enjoy this outdoor activity in the heart of Val du Haut Morin's sensitive natural area.
Dotted along the 6.5-km-long (13 km round trip) are creative, captivating art installations based on plant or animal themes.
Art lovers will appreciate the enchanting interlude provided by this aesthetic scenery!
Midway along the course, you can partake in nature workshops provided for free by our educational team. Learn about preserving the environment, the design principles of permaculture, how to be eco-friendly, recycling, biodiversity and much more.
To ride a railbike, you'll need a minimum of 2 people and a maximum of 5 (including children). If you have more than 5 people, you'll have to hire a second railbike. 2 passengers will be in charge of pedalling, but if your group is larger group, feel free to swap spots on the road (maybe 'rail' is more like it) to share pedalling duties.
The more, the merrier.
Make it a group experience to enhance the fun!
• Different package options are available by reservation only (24 hours in advance):
– "Assiette Fermière" or "Taste of the Countryside": from 13 €: picnic formula offering the best products from our farms with raw vegetables, free-range chicken fillet, apple tartlet and Briard cider, and Briard beer as an option!
– "Assiette Fertoise": delicatessen local products: from 14 €: aperitif formula with home-made foie gras, sausage, ham on the bone, etc. (depending on arrival), that will delight gourmets and fine tastes!
– The Nocturnes :
Don't miss our thematic evenings, on booking:
"Jazz & Terroir" on 10 July and 14 August, "Zombie Night" on 28 August 2021 to close the season!
Departures at dusk, including local dinner and entertainment, with a magical return by candlelight…
• Departure by small train from the Tourist Office of La Ferté-Gaucher, which will take you directly to the site.

• Services available: shop and sale of local products, refreshment stand, waiting and picnic areas, water fountains and WC (open on request).
Schedules, Welcome conditions & Prices
Information subject to change and to the evolution of sanitary conditions in force.
Schedules:
• From 19 May to 7 november 2021: departures daily at 10 a.m., 1 p.m. and 4 p.m., with catering facilities in option.
• 10 July and 14 August: "Jazz & Terroir".
• 28 August: "Zombie Night".
For your safety, welcome conditions are specially set up:
• Presentation of a Sanitary Pass.
• Obligatory booking, and online booking recommended.
• Hydroalcoholic gel dispenser at the entry of the site.
• Wearing of the mask is obligatory from 11 years old, in the common areas.
• Organization on site respecting social distancing.
• Rotation of the railbikes carried out by the visitors, but supervised by our animators.
• WC on request.
• Cleaning of the place and equipment between each tour.
• Catering sales limited to conditioned food (no sandwiches).
Prices:
• For 1 railbike from 2 to 5 people (included child): in week 38 € – weekends, public holidays and extra days, and during French school holidays (zone C) 45 €.
• Family package for 2 railbikes, maxi 10 people (included child) : from 64,90 €.
•  Assiette Fermière or Taste of the Countryside: from 13 € per pers. + railbike rental.
•  Ardoise Fertoise with local products: from 14 € per pers. + railbike rental.
• Contact us for group price from 21 people, and for private events can be organised.
Contacts
Rdv at the Tourist Office, 35 rue des Promenades, 77320 La Ferté-Gaucher.