Surrounded by specialists in motorsport, see even tiniest tikes riding a motorcycle or quad bike. But don't worry…protection and maximum safety are provided!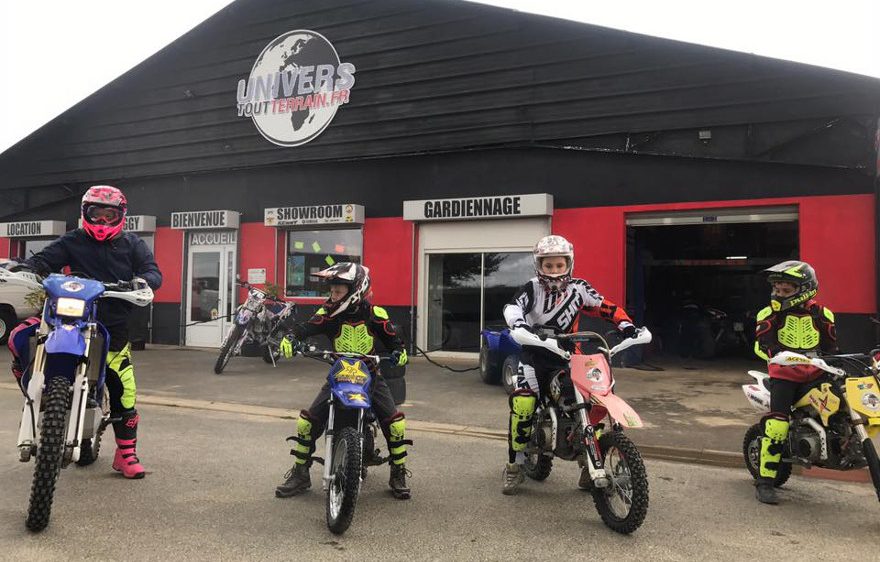 About
The Univers Tout Terrain team introduces the youngest kids to motorsports and, more specifically, to quad bikes and motorcycles.
Supervised and surveilled by specialised monitors, a kids zone with 2 race tracks is located at the entrance of the site.
You'll first find the discovery trail installed in an inflatable structure on both sides to safely acquire the basics of driving.
Advanced-level young adventurers will then begin to learn crossing on the all-terrain initiation course.
Univers Tout Terrain is responsible for equipping each child with a helmet, a full-length protective vest, gloves and knee pads.
And while the kids are having fun, parents can enjoy the specially equipped picnic area to watch the little ones go!
Univers Tout Terrain Univers also proposes activities for adults, baptisms or practice of quad, buggy, motorcycle or 4X4!
Schedules & Prices
Schedules:
• From Tuesday to Friday from 9 a.m. to 12.30 p.m. and from 2 p.m. to 5 p.m.
• Saturday and Sunday from 9 a.m. to 12.30 p.m. and from 2 p.m. to 6 p.m.
• Closed on Monday.
For your safety, welcome conditions are specially set up:
• Limited number of people respecting social distancing.
• Hydroalcoholic gel dispenser.
• Wearing of the mask is obligatory.
Prices:
• For 1 session of 30 min: 39 € per child.
• Birthday party: 20 min mixed motorcycle/quad + birthday snack (birthday cake, drink, candy) + privatization of the chalet : 45 € per child.
• Possibility of motorcycle courses all year long, contact us.
Contacts
Rdv at the Pôle de Loisirs Mécaniques Aérosphalte (Aerosphalt Mechanical Leisure Center), access via D204, 77320 La Ferté-Gaucher.
48°45'30.7″N – 3°16'31.9″E
To find us easily, you can use Waze or Google Map and enter "Univers Tout Terrain"
0033 1 64 65 64 88
http://universtoutterrain.fr (only in French)