Discover the Valérie's garden in every season and share the passion of flowers and plants…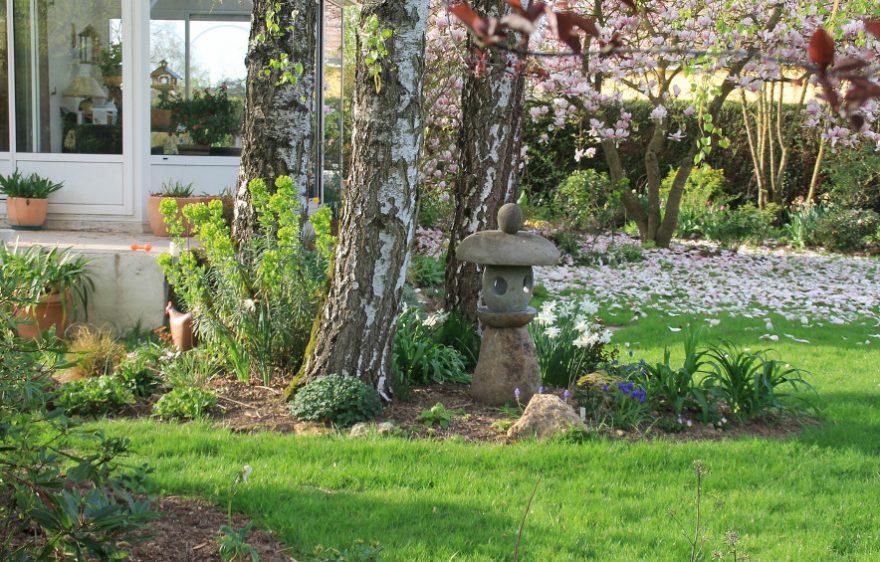 About
For 30 years, Valérie has transformed her garden, using leaves and flowers as her building materials…
She began her journey with rhododendrons and, once she had begun, she never lost her zeal for discovering new plants…
Come see her roses, camellias, perennial azaleas, shrubs, trees and more! Don't forget to explore the pond created after the storm of 1999.
Throughout the years, Valérie's Garden has expanded around the exterior of the house, making it possible to admire the garden from every window.
With the tiny figurines and other artisanal creations that Valérie is so fond of, this green oasis will win your heart with its sincerity.
Definitely be sure to pay a visit to Valérie's blog (only in French) where she will imbue you with her passion from one season to another. You'll also find dates for her open house or barter days!
Schedules & Prices
Information and welcome conditions subject to change.
Schedules:
• From April to the end of July and from September to the end of October: visits on Saturdays and Sundays, by appointment only.
• Closed in August.
Prices:
• Adult 2 € – free for children.
Discover and buy online the Pass "Âme de Jardins" (Soul of the Gardens)
Discover The Valérie's Garden and the most beautiful gardens of Provinois, Bassée-Montois and the valley of the 2 Morin, thanks to this pass.
Available for 1 year, it gives the right to visit each of the participating gardens:
• Select the date of your first visit:
Contacts