"Swords and Dungeon", the historical show of Provins
to discover knights' history and real medieval war machines in action!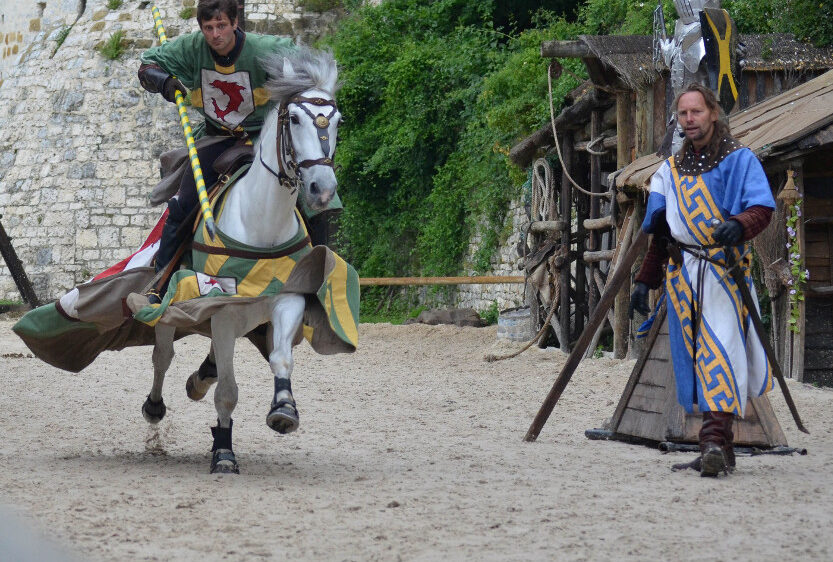 About
Swords & Dungeon is an educational show for all public, dedicated to the world of chivalry and to real medieval war machines, life-size and built identically according to ancient plans..
Thibaud IV, the lord of Provins, with his knights and his devoted joker Raoul, invite you in his domaine in order to deliver all their secrets.
They will tell you about their incredible weapons of the time (sword, spear, axe, flail, crossbow…) and war machines (Couillard, Trbuchet and mangonel) which were used to attack or defend medieval castles and cities.
Between anecdotes and tomfooleries, the knights will have to show skill and dexterity during equestrian games, respecting the motto of all the Counts of Champagne who reigned in Provins: "Pass before the best !".
This show full of demonstrations is a beautiful illustration of the Middle Ages, to learn while having fun!
All our shows are guaranteed, because of our covered seating. You are protected from all bad weather and ideally placed in the shade!
Educational signs about medieval siege engines.
Accessible to disabled persons.
Shop.
Schedules, Welcome conditions & Prices
Information and welcome conditions subject to change and to the evolution of sanitary conditions in force.
Schedules:
• From 18 April to 1 July 2022: Monday, Tuesday, Thursday and Friday at 11.15 a.m. – except on 25 & 26 April, and on 2 & 6 May.
• No show on Wednesday and on weekend.
Length: 35 min.
Please arrive 30 minutes before the beginning of the show.
Please note that animal friends are not allowed on the sites of the medieval shows.
Prices: adult 8 € – child (4-12 years old) 5,50 €.
Reduced prices:
• When you buy Pass Provins or Family Pass: adult 6,50 € – child (4-12 years old) 5 €.
• Combination ticket Swords and Dungeon + The Legend of the Knights, with or without Pass Provins or Pass Family: adult 17,50 € – child (4-12 years old) 12 €.
Buy your tickets online
Select your date and buy your tickets online, at even lower prices!  (with or without Pass Provins) :
Contacts
Rdv at the Saint-Jean door, on the ramparts, upper town, 77160 Provins.
33 00 1 60 67 39 95
www.equestrio.fr (only in French)