Les Tabliers Gourmands offers cooking classes and culinary workshops all year round, for adults, teenagers, children and families!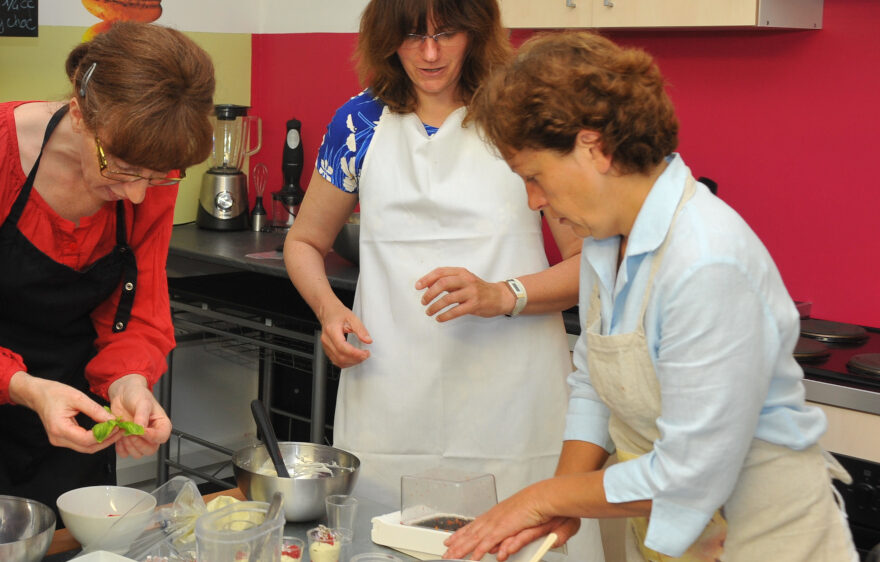 About
Savory/sweet recipes, discovery of medieval cuisine and local products, anti-gaspi workshops, à la carte or year-round courses…, don't hesitate to let yourself be guided by Dame Corinne, a professional pastry chef who has only one desire: to share and transmit her passion for cooking!
For this reason, she created "Les Tabliers Gourmands" and offers throughout the year numerous workshops, courses or thematic cooking classes for adults, adolescents, children and families.
All the food and utensils are provided, so all you need is an airtight box to take your delicious creations home.
Sometimes these gastronomic meetings are followed by a tasting on the spot, and are synonymous with beautiful tables and unique moments of sharing!
Dame Corinne knows a lot of things, and also knows how to tell small and big stories about the habits and customs of our food practices.
She will make you forget some prejudices, if you had any, especially about medieval cooking!
Offer an original gift to your loved ones with the "Bon Gourmand"!
Possibility of privatization, do not hesitate to contact her…
You can also visit his biscuit factory "Gourmandises médiévales" at 12 rue de Jouy, where delicious biscuits with recipes dating from the Middle Ages, from the 10th to the 15th century, await you.
Organic, without additives and made with local flours, they can be taken away, given as gifts or enjoyed in the tea room!
Schedules, Welcome conditions & Prices
Information and welcome conditions subject to change and to the evolution of sanitary conditions in force.
Schedules:
From 2 January to 31 December: check the agenda for all the dates of the courses and activities.
Prices:
Prices for adults, teenagers, children or couples, from 10 € to 65 €, depending on the course or activity chosen.
Contacts
Rdv at the House of Local Products and Handicrafts, Place du Châtel, entrance via rue du Palais, 77160 Provins.