The village of Beton-Bazoches is full of historical treasures with its church, its covered market hall and its monumental apple press!
An unusual guided tour to discover the secrets of cider and apple juice production…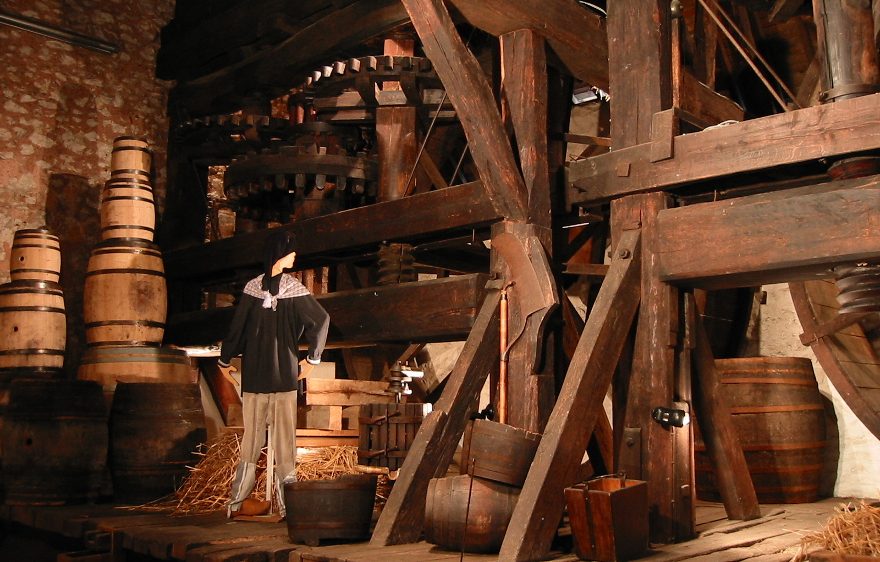 About
The apple press of Beton-Bazoches is monumental. It dates from 1850 and was built by Désiré Naveau, a member of the craftsmen association, Compagnons du Devoir et du Tour de France.
It remains a unique landmark in the Île-de-France!
Immediately upon entering the room, the eye is drawn by the 700-kg stone grinder, once pulled by a horse to crush the apples.
The precious slurry was then placed in double presses, which functioned alternately, yielding hundreds of hectolitres of cider.
This drink has always been very popular and cherished.
This is certainly a unique journey back in time to the late 19th century.
Listed as a historical monument, the Saint Denis church of Beton-Bazoches is a medieval building of rather complex interpretation.
According to stylistic criteria, its construction can be dated between the last quarter of the 12th century (for the first two bays of the south aisle) and the middle of the 13th century (for the radiating chevet).
To be seen in particular:
• An altarpiece to the Virgin Mary in carved stone panels evoking episodes from the life of the Virgin.
• A 17th century pulpit with a bowl of six carved wooden panels dedicated to the Evangelists.
• The panels that adorn the drum of the door date from the 16th century and depict the Annunciation, the Visitation and the Adoration of the Magi.
The covered market hall dates from the 16th century.
In 1528, a letter of patent from François I authorised Louis Fretel, Lord of Beton-Bazoches, to hold three annual fairs, in January, June and September, and a weekly local market on Mondays.
The king required that this take place in a covered area.
Thanks to this royal privilege, the village became a commercial centre that radiated up to 20 kilometres.
Bought in Year II by Jacques-Antoine Berthault, the hall was immediately transferred, by donation, to the municipality, which still owns it.
Cultural highlights not to be missed (subject to change):
• Sunday 17 September 2023, from 2 p.m.: The European Heritage Days: opening and visit of the apple press.
• Sunday 8 October 2023, all day long: The Cider Festival: a great event, where you can see cider being made, taste it and walk the streets that turn into a huge flea market!
Complete programme in the "Agenda"
Schedules, Welcome conditions & Prices
Information and welcome conditions subject to change.
Schedules:
• Visit by appointment from 10 people.
Prices: 
adult 2,50 € – child (6-12 years old) 2 €.
Contacts
Rdv rue Tessier and Place de l'Église, 77320 Beton-Bazoches.
0033 6 75 47 74 78