Amazing, this is the word that will come to mind when you discover the ramparts of Provins!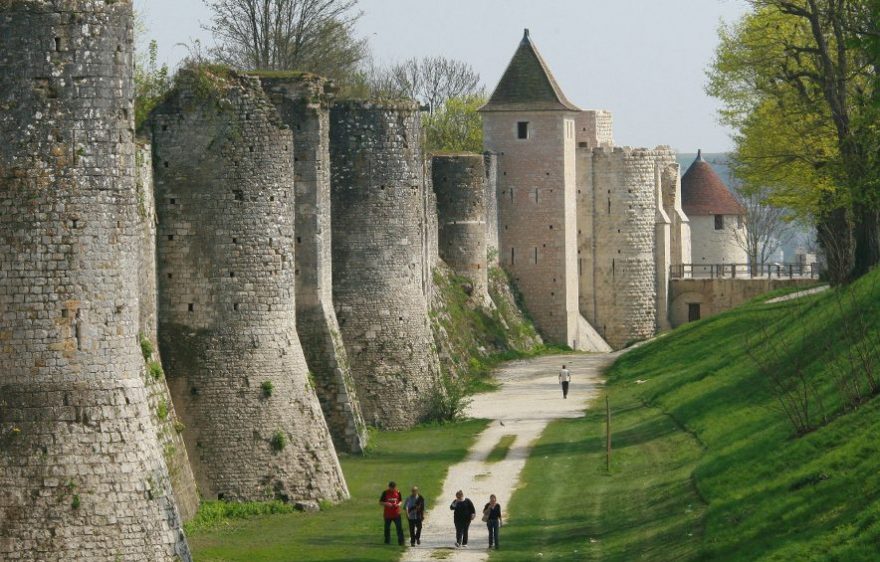 About
What is a medieval town or a medieval city?
A medieval town or a medieval city is by definition an urban area protected by fortifications!
This is exactly the configuration of Provins, because in the Middle Ages, the whole town was surrounded by ramparts forming a unique protective belt for all its inhabitants.
It's enough to make you dizzy…
Built between the 11th and 13th centuries, the ramparts are 25m high, and at the time were 5km long, certainly one of the most imposing fortified walls in France!
The Count was thinking big, in order to accommodate and protect the citizens and the many merchants that came for the Fairs of Champagne.
Today, there is still 1.2 km left around the upper town.
As in most cities, the missing part has been used to build or rebuild houses. You can still easily imagine the complete route thanks to the "Allées d'Aligre", a very pleasant and favourite walking boulevard for the Provinois, which you can also take during your visit (see the purple circuit in the brochure "Visitor's Guide" ).
Once the Provins Tourist Office is behind you, the road leads you straight to the Porte Saint-Jean, one of the 2 remaining fortified gates with the Porte de Jouy.
We advise you to go around the ramparts of Provins, from the outside by turning left, via the "Allée des Remparts" and the "Allée des Lépreux".
Do not miss to admire the very beautiful perspective at the level of the Engine Tower (big tower at the corner).
So named because it is said that the metal parts used to make siege engines were stored nearby.
You can go down into the moat to discover them below, thanks to the stairs.
You can also gain height by climbing the ramparts, still at the level of the 2 gates, but on the inside!
A great way to admire the surrounding countryside.
On the Porte de Jouy, on the city side, you will have a beautiful view of the roofs of Provins!
All along your walk, you can have fun naming the different shapes of the towers: round, rectangular, almond-shaped, octagonal, hexagonal, trapezoidal, etc.
The builders were able to take advantage of the city's wealth to demonstrate their know-how, building all the geometric styles.
The restoration began in the 1970s and was completed in September 2022.
The companies and craftsmen working on this site were all approved the Monuments Historiques: masons, stone-cutters, carpenters, roofers, electricians, etc.
Cultural highlights not to be missed (subject to change):
• New lighting: since 10 September 2022, the ramparts have been equipped with new, economical and ecological LED lighting.
This historic date also marks the end of the restoration of this unique heritage.
Do not miss this beautiful show at nightfall!
Schedules & Prices
Free access all year long.
Contacts